Working Student – QA (f/m/d)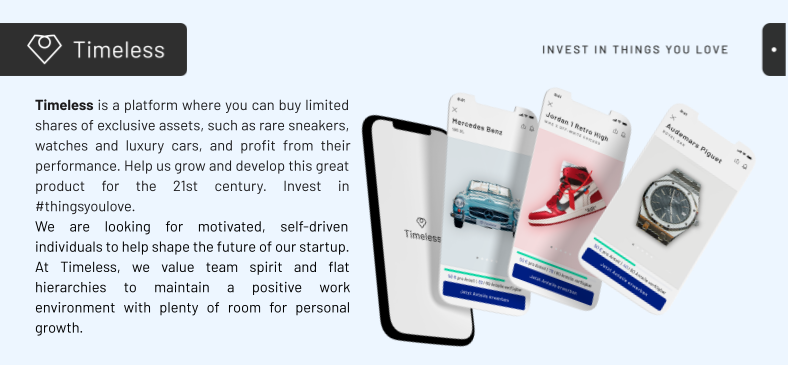 As a working student at Timeless in our Quality Assurance group, you will be part of a dynamic team which makes sure that all applications and features that we deliver match our high quality standards. You will be in continuous contact with other departments like Development, Design and Product Management, while being an active part of our software development life cycle.
We are offering you a chance to learn from a cross-functional team and work in an environment that will give you a balanced mix of interesting tasks which span a wide spectrum of skills. As a rapidly growing team, we are looking forward to a new, independent-minded team member who will be responsible for more than simply looking for bugs.
If you are looking for a role in which you can really leave your mark and actively influence our product, get in touch with us!
What your role will be:
You will assure the quality and functionality of new features by testing them on a regular basis and making sure different mobile usability is taken into account, and how that can influence our users' experience (android vs. apple)
You will approach our application from a user-perspective, developing different test-cases and anticipating blockages for users
You are responsible for coordinating testing sessions, creating tickets for errors and inconsistencies and making sure testers' and users' feedback is communicated to the right stakeholders
What we see in you:
You are enrolled as a student (ideally in a IT relevant Bachelor/Master)
You are fluent in English (both written and spoken). German would be an asset
Ideally you have experience with bug tracking and/or test management tools
You are familiar with different mobile usability devices and their differences (iphone vs. android)
You have a sharp eye for detail and you bring structure to tasks you are involved in
You are a natural communicator and able to coordinate between different stakeholders
You work solution oriented and have a high affinity and enthusiasm for working with new platforms/devices
You are interested in fintech products and ideally have a good understanding of payment workflows, trading concepts etc.
What you can expect from us:
Team spirit: No divas and flat hierarchies!
Grow together: We are growing and you will grow with us! How? With a challenging environment and an international team that will support you in everything you need
The #newnormal: Flexible working hours and full commitment to your wellbeing by keeping everyone safe during covid-19, which includes working fully remote and many initiatives to support remote environment
Startup perks: Regular virtual team events and surprise packages delivered straight to your address!
No one knows what you need in order to work at your best better than yourself. Let us know and we'll try and make it happen!
Want to join our team?
Send your application (make sure to include your Github/Stackoverflow profile!) to Camila Sarmanho (HR Manager) – jobs@timeless.investments